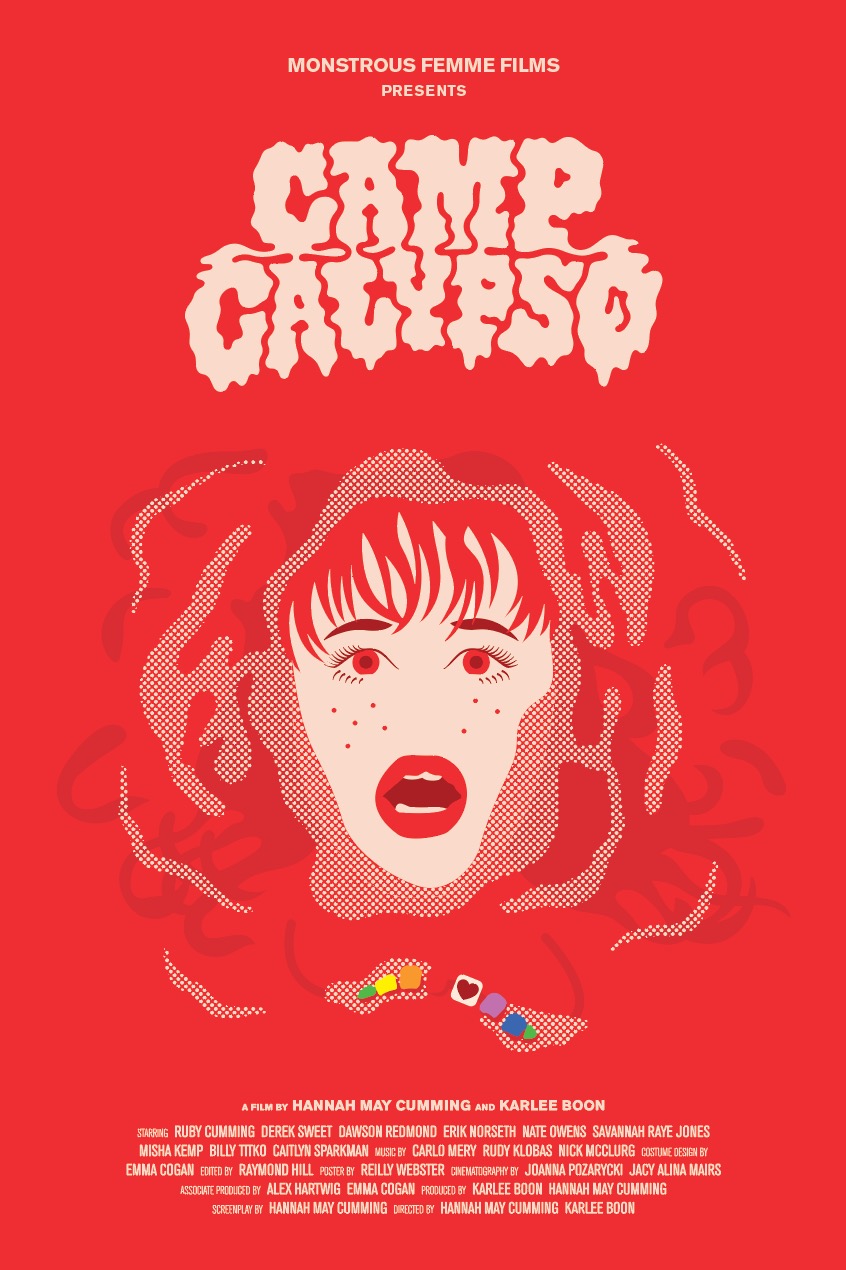 CAMP CALYPSO
PORTLAND THEATRICAL PREMIERE


***NEW DATE TBA***

Following a successful festival run with their first horror short film, FANATICO, the Monstrous Femme Films team presents the premiere of their sophomore film, Camp Calypso.

A '70s summer camp with a history of misogyny is hunted by a vengeful, man-eating siren that lives in the lake. Starring Ruby Cumming, Derek Sweet, Caitlyn Sparkman, Savannah Raye Jones, Misha Kemp, Dawson Redmond, Erik Norseth, Nathaniel Owens, and Billy Titko.

DUE TO COVID-19, THE CLINTON ST. THEATER HAS SHUT ITS DOORS FOR THE TIME BEING.
WE HOPE TO RESCHEDULE A THEATRICAL PREMIERE FOR A DATE LATER THIS YEAR.

Free admission, but donations are welcomed and encouraged!



OREGON SCREAM WEEK Fall 2020


October 10th

Oregon Scream Week is screening over 100 horror short films at the Sunshine Mill Winery drive-in theater in The Dalles, OR from October 8th-10th. Camp Calypso is opening the final night at 6pm. The directors will also accept the award for Best Director from this fest! $30 per car for all three nights!
OUT FOR BLOOD QUEER HORROR FILM FESTIVAL


October 28th - 31st

Out for Blood, based out of Cambridge, UK, is taking its fest online over Halloweekend! The virtual film festival will include 21 horror films, drag, live panels & the annual Out for Blood Quiz.













CAMP CALYPSO ONLINE PREMIERE
2020 PORTLAND HORROR (VIRTUAL) FILM FESTIVAL
SHORTS BLOCK 5 / Saturday, June 20 / 3:00 - 4:40 PM

Due to the ongoing pandemic, and uncertainty about when theaters will open at full capacity, this year's show will be a dynamic streaming event with both pre-recorded and live content, including film introductions, interviews with horror icons, and live filmmaker Q&As that you can take part in. Each show below will be available to stream, beginning at it's start time, and for an additional 24 hours for your convenience.
THE SHORTS BLOCK WILL BE FOLLOWED BY A LIVE FILMMAKER Q&A AT 4:45 PM

Admission for the block is $15 (or $60 for all 6 blocks).


More ticket information can be found on the PHFF website
here
.
CAMP CALYPSO at CRYPTICON SEATTLE 2020

September 18th - 20th

Due to COVID-19, Crypticon 2020 will be taking a hybrid form of an online film festival and a pop up drive in theater screening.
MORE INFO TO BE ANNOUNCED
MOONLIGHTING
October 29, 2019 / 7:30 PM

Boathouse Microcinema
822 N River St
$8 cash or card

JOIN US FOR A NIGHT OF HORROR...
Hannah & Karlee of Monstrous Femme Films guest curate a night of spooky, scary, and witchy work by a diverse lineup of filmmakers. These movies explore social, internal, and technological anxieties, twisting the expectations of the genre to explore modern conceptions of fear.
PRESENTING:

Alex Hartwig –
I Love My Computer
Kai Pacifico –
The First Taste
Katrina Brede & Jason Connely –
The Sound
Alberta Poon –
It's Lit
Kanani Koster –
Aidia
Jason Wilkinson –
Killing Time
Hannah May Cumming –
FANATICO
FANATICO PORTLAND PREMIERE

April 7, 2019 / 7 PM

Clinton Street Theater
2522 SE Clinton St
Portland, Oregon 97202

Free admission, DONATIONS ENCOURAGED!

Come see the world premiere of FANATICO at the historic Clinton Street Theater!


When students moonlighting as sex workers start being murdered at a Catholic boarding school, the new girl with strange visions must try to uncover the truth.

FANATICO is a campy horror short, tackling themes of religious corruption and violence against the sexually liberated. Originally inspired by Italian horror of the 1970s, the film features hyper-stylized visuals, authentic vintage costumes, and a variety of gory practical effects. The film also features an all-original score, original foley, and an original hand-drawn title design. With a female director, producers, cinematographer and more, we hope that the femme influence shines through in the final product.

CONTENT WARNING // graphic violence, gore, violence against sex workers